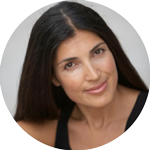 Tara Lee has been practicing yoga for over 20 years and has been teaching yoga for 10 years.
She began teaching while pregnant with her first child 8 years ago and the experience helped her to develop her own style called 'Pregnancy Health Yoga'. Tara's yoga DVDs are bestsellers in their category.
Tara currently teaches 'Pregnancy Yoga', 'Mother and Baby Yoga' and 'vinyasa flow yoga' at The Life Centre, Notting Hill Gate in London.